30 Nov

December 2020 Yellowbill

President's Message
Greetings, FAS members and friends. I hope that all of you are staying healthy and safe during these challenging times.
On Tuesday, December 8, FAS will hold its third general meeting over Zoom. Our speaker for the evening will be Gary Woods, who is an amazing birder and photographer.  Gary will be sharing some of his amazing bird photography and immense knowledge. You definitely do not want to miss this! Please join us on Tuesday, December 8 at 7:00 PM.
Thank you again to everyone who attended the November 10 general meeting. Jeff Davis's presentation on the life history of some of our more common local birds was quite fascinating!
FAS would like to extend a huge thanks to everyone who attended the live virtual field trip to the Fresno-Clovis Regional Wastewater Treatment Facility on Saturday, November 21. Despite the dense fog, the trip was a success! Some of the species we got looks at were Least Sandpiper, Greater Yellowlegs, Long-billed Dowitcher, Black-necked Stilt, American Avocet, and American Pipit. We will be doing this again on Saturday, December 12 from 10:30-11:30, at the River Center, which is a great location for herons, egrets, various ducks, finches, sparrows, and raptors! Please stay tuned for registration information!
The Lost Lake CBC will be held on Sunday, December 20 under strict social-distancing guidelines. There will be no in-person meet-ups, and we will ask participants from different households to count separately. Unfortunately, participation will have to be somewhat limited this year; as of now most sections have a leader, and 10 additional participants are needed. If you are interested in participating, please reach out to me at tanagergirl@gmail.com.
If you are not already, please follow us on Facebook, Twitter and/or Instagram, and subscribe to our YouTube channel. This is a great way to engage with us and stay in the loop! We are always posting fun and educational content, as well as information about upcoming events such as general meetings and field trips.
I'd like to take a moment to talk to you about another opportunity to engage with Fresno Audubon, which is to partake in our citizen science projects.  We are conducting monthly surveys on several properties managed by the San Joaquin River Parkway and Conservation Trust to assess the level of bird activity and diversity in areas that have undergone restoration efforts. The survey protocol is very easy-all you will need is a pair of binoculars and an eBird account! Information on this project is on our website here: https://fresnoaudubon.org/citizen-science/. If you are interested in or want more information regarding these surveys, please feel free to reach out to me at tanagergirl@gmail.com.
To end this message on upbeat note, I'd like to share a few shorebird pictures with you. In order, the species are Surfbird, Black Turnstone, and Western Snowy Plover. The Surfbird was photographed near Avila Beach, the Black Turnstone was photographed near Seaside, Oregon, and the Western Snowy Plover was photographed at the Fresno-Clovis Regional Wastewater Treatment Facility. Enjoy!
Please take care of yourselves!
Rachel Clark
President, Fresno Audubon Society
---

Membership
Membership with Fresno Audubon Society is available for students, for individuals or for families. We also offer a lifetime membership. Your dues will help us pay for our meeting room rental, insurance for field trips and citizen science, communications and other costs of doing business. Please see our first annual report for more information how we spend dues money.
Fresno Audubon society membership levels:
$15 Student
$25 Individual
$35 Family
$1000 Golden Eagle (Life)
Our membership year runs from September 1 to August 31 the following year. To join Fresno Audubon Society or to renew your membership, please visit our website here.
---

December General Meeting
Gary Woods Bird Photography
Tuesday, 8 December 2020, 7-8 pm
Via Zoom
Join Fresno bird photographer Gary Woods for our December program featuring bird photos and videos from the past 12 months. Gary retired last year after walking Ag fields for 43 years. This summer he was able to tick 2 items from his retirement bucket list, including a week in southeastern Arizona in May and a 12-day trip to North Dakota in June. He will present his best pictures from these trips plus various California rarities on December 8th at 7pm.
To receive the Zoom link for the meeting, please register here.
Field Trips
All field trips are still on hold until the California Public Health Officer lifts the restriction against public gatherings. These restrictions were put in place on 19 March 2020 to help prevent the spread of COVID-19. You can read about them here. The board has decided to not restart gatherings as long as Fresno County continues to be a hotspot of COVID-19 infections.
In the meantime, we have created a way for you to see birds live in the field through Zoom. Your view of the birds will be provided by a camera with telephoto lens that can magnify the birds giving you a clear view of them. This video stream will be narrated by Rachel Clark, president of Fresno Audubon and avid birdwatcher. You will be able to ask Rachel questions during the meeting as well. Join us as we take you to some local birding hotspots to show you some of the birds on site and teach you ways to identify them. This is the perfect opportunity to see a diverse array of local birds and interact with the hosts in real time, all from the safety of your home!
Saturday 12 December 2020, 10:30-11:30 am ⏤ Virtual Field Trip to River Center with Rachel Clark
Our next virtual field trip will be to the River Center, which is a great place to see both waterfowl and riparian birds along the San Joaquin River. This trip will start at 10:30 am to hopefully avoid any fog. This should be a lively trip with some great birds, and Rachel will give pointers for identifying the birds we see.
Register for the Zoom meeting here.
---
Places to bird during social distancing within a half hour drive of Fresno
We would also like to offer the following suggestions for birding on your own. Birding alone or with a household member is permitted as a means of exercise as long as a six-foot separation from others is maintained (see for example Fresno City Emergency Order 2020-13). Many public parks and other areas are now closed, but these areas below remain open. Be sure to follow any parking restrictions when birding these areas.
Fresno County
Jensen River Ranch https://goo.gl/maps/qorJF8uGUHrNxgFj8
Riverbottom Park https://goo.gl/maps/sUsBGxJ8v31YFha48
River West https://goo.gl/maps/bNmBDPMiqrtKofJq9
Big Dry Creek Reservoir grasslands https://goo.gl/maps/dYJzn47CPGwaLrt58
Enterprise Canal, Clovis https://goo.gl/maps/5oXTKD6r4eqi27Yv7
Cotton Wood Park, Clovis https://goo.gl/maps/1Sqs4aXkyBbw2sod7
Madera County
Wildwood Native Park and trail to Sycamore Island https:goo.gl/maps/y3VmVhchMA6kH2t18
Rd 208 https://goo.gl/maps/QdYTJvGNLW1pQkKx8
Rd 209 https://goo.gl/maps/ZG5kxTXgNKuUX9Gh6
Hildreth (210) Rd loop https://goo.gl/maps/JJk5jtyV8FNTBKMp8
---
Social Media Update
Fresno Audubon is restarting our YouTube channel (https://www.youtube.com/user/FresnoAudubon), and we have posted a few new videos this month. Please subscribe and watch videos about birding by ear, bird identification tips, and virtual field trips. Also follow us on Facebook, Instagram and Twitter where we post photographs from local photographers, rare bird alerts, and links to our events.
---
Fresno-Madera Birds
by Jeff Davis
Including reports for the period of
October 16, 2020 to November 15, 2020
A juvenile Pacific Loon
at Bass Lake November 2 (ph. GW) provided the first record for Madera County since 2014.
Presumably one of the two Neotropic Cormorants
discovered at Fancher Creek Basin in September, then found at Orange Cove Wastewater Treatment Plant in October, was reported from about 6 miles northwest of there at Wahtoke Lake November 6 (ph. KER, CR) through the end of the period (ph. m.ob.).
The returning adult female Vermillion Flycatcher
continued along the Madera Canal November 1 (ph. GW).
Late migrants included a Barn Swallow
at River West Open Space October 31 (KER), a Nashville Warbler
near Millbrook and Spruce avenues November 10 (LY), and a Western Tanager
near Rialto and Palm avenues October 21 (RC).
Cited Observers: Rachel Cark, Kevin Enns-Rempel, Chris Rempel, Gary Woods, Lowell Young.  m.ob. = many observers, ph. = photographed by.
If you make an interesting observation, we'd love to hear about it. We are especially interested in birds listed as casual or rare on the Fresno Audubon checklist and those found out of season, out of normal habitat, or in unusually large numbers. Please submit reports to Jeff Davis (559-246-3272, jndavis@ucsc.edu), the Fresno County Birders e-mail list, or eBird.
---

Birds in the News
Links to Recent Articles on Birds
South Texas Birding Preserve Rescinds Agreement To Sell Land To Federal Government After Community Outcry
Bird watchers look for birds at a preserve in Salineño, Texas
A group of birders gathered one Friday morning at a birding preserve in Salineño in Starr County. The birders sat on lawn chairs and looked around with their binoculars at the trees that surrounded them. Thousands of birders visit here every year.
"We get up in the morning and put out the bird food and the water and just make sure that we're ready to open the gate at 8 o'clock, and then we welcome in the guests and make sure they see all the different birds that are coming and going," said Mike Emenaker, a volunteer who lived on the birding preserve. Read more…
Trump officials move to relax rules on killing birds
A dunlin and two sandpipers search for food near Teshekpuk Lake in Alaska's North Slope Borough on May 28, 2019. (Bonnie Jo Mount/The Washington Post)
A rule change easing companies' liability for killing birds would not cause unacceptable environmental harm, the Trump administration said in an analysis published Friday, clearing the way for it to finalize a major rollback before the president's term ends on Jan. 20.
The administration, which is racing to lock in a series of regulatory changesbefore President-elect Joe Biden takes office, can now publish a final rule modifying the U.S. Fish and Wildlife Service's interpretation of the 1918 Migratory Bird Treaty Act. Read more…
Fossil Reveals Weird, Toothed 'Toucan' That Lived Alongside The Dinosaurs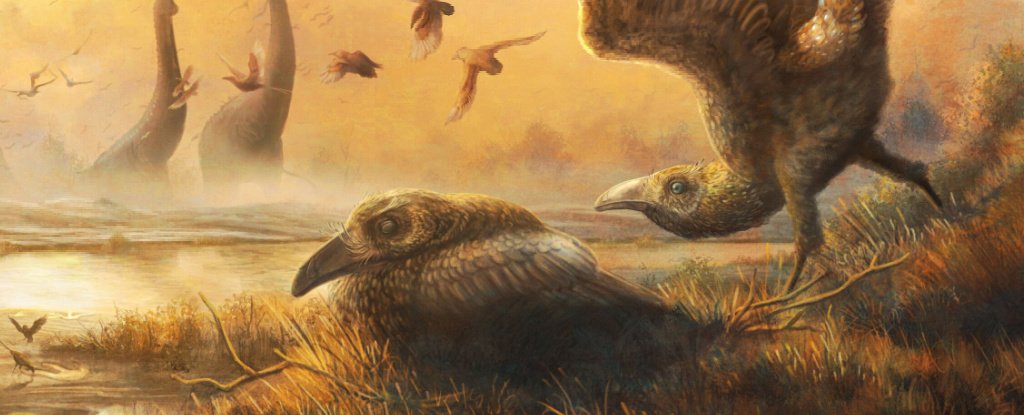 Illustration of Falcatakely forsterae alongside dinosaurs. (Mark Witton)
The discovery of a creature described as resembling a "buck-toothed toucan" that lived some 68 million years ago has upended assumptions about diversity in the birds that lived alongside
dinosaurs
.
Read more…
A book that may change forever the way you think about birds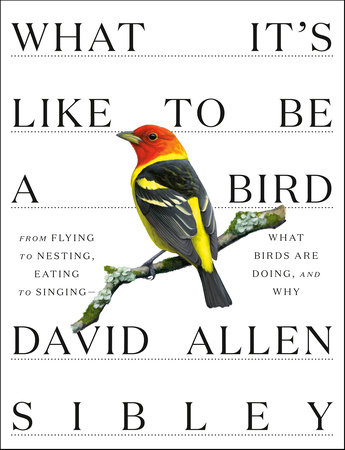 PORTLAND, Maine — For anyone who loves to read, there are few better experiences than getting utterly and happily lost in a fascinating book. Such are the pleasures that await the reader who opens "What It's Like To Be a Bird," the latest book from David Sibley, America's most popular contemporary bird author and illustrator. Read more…
Artist Strategically Guides Birds With Food to "Draw" Giant Illustrations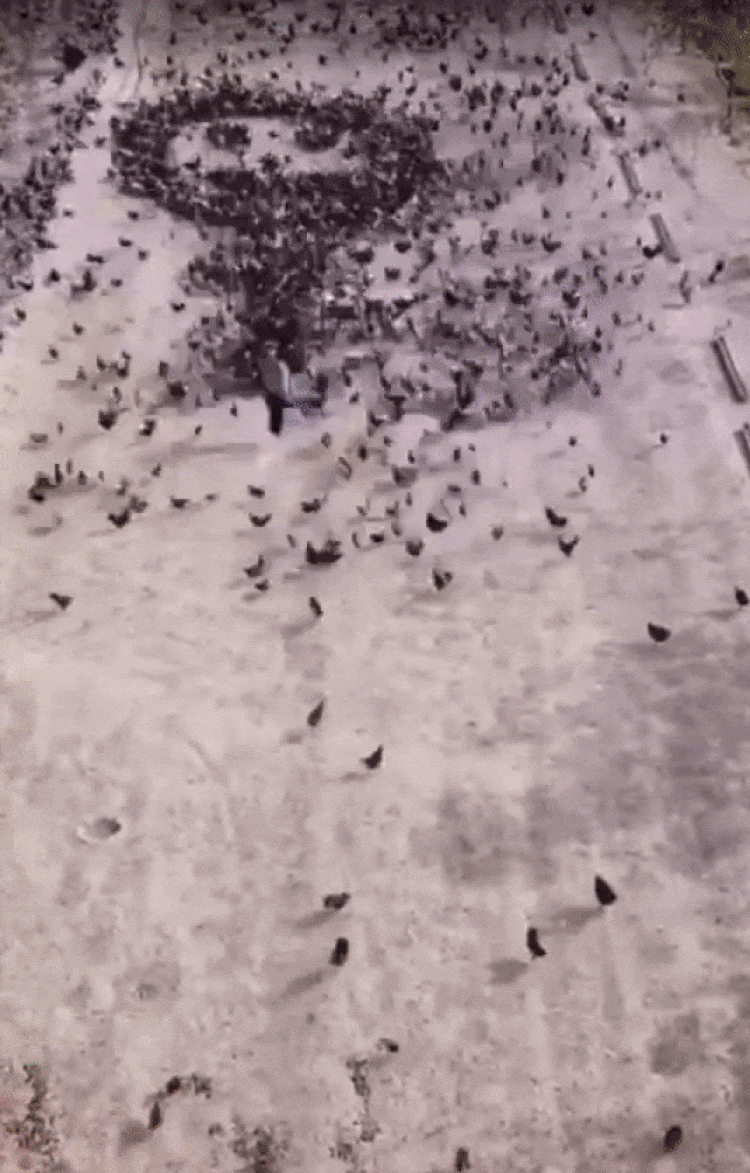 From
string art
to
food sculptures
, we've seen creatives use all sorts of unconventional materials to make art. However, never before have we come across art made from living birds. Rather than use chalk or paint for their large-scale, outdoor drawing, this person uses hundreds of chickens. A viral video shows the artist strategically laying out bird seed to entice the flock into position. The resulting image is a stick man holding a ball, which many online are comparing to the "Hadouken" attack pose from
Street Fighter
, Capcom's iconic video game series.
Read more…
The efficiency of migratory birds' flight formations
Researchers guide migratory birds to their wintering grounds. The data obtained in this way provide important insights into how the animals save energy when flying in V formation. Credit: Waldrappteam
Migratory birds flying south provide an impressive example of cooperative behavior that saves power and energy. In the past, it was impossible for scientists to study this phenomenon in a natural environment. Researchers who guided young northern bald ibises to their wintering grounds have now succeeded for the first time in obtaining a comprehensive data set. A better understanding of this behavior is also of fundamental importance in respect of climate change.
Read more…
---

Member Photographs
Fresno Audubon members have been submitting some really terrific photographs to this column. If you would like to add yours to the mix, please send your photo in jpeg format to rsnow@fresnoaudubon.org with a brief description, where the photo was taken and how you want the photo credit to read. Birds may be from anywhere. Limited space may restrict publication to a later issue. We will also showcase your photos on our social media.
Mark Haywood
Chris Hiatt
Nina Jones
Larry Parmeter
Sylvia Sanchez
Eve Sproule